At my company, we design our own business cards. I ran out of mine, and so it was time to make more… i made a new one using a painting I discovered, Kandinsky's "Etages" ("Storeys").
I think it's fabulous as a kind of mandala for IA. It's sort of of obvious once you see it. At least to me. What do you think?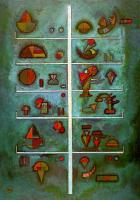 250k.
Tags: Information Architecture
Comments are now closed.