At CommunityWalk – 3pointD there's a hack for Google Maps that maps Second Life virtual spaces.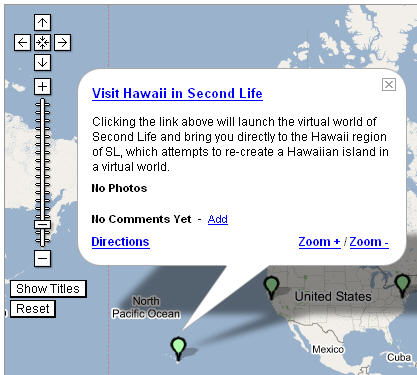 Mark Wallace's blog, 3pointD, explains his hack here:
http://www.3pointd.com/20060405/take-a-community-walk-to-second-life/
One of the cool Google Maps hacks on display at South by Southwest this year was Community Walk, a site that lets users create collaboratively tagged maps of real locations. But with the Second Life map API being open as well (see the SLurlPane at the top of the right sidebar here), I figured it couldn't be a bad thing to hack a Second Life location into a Community Walk community. Not that the current incarnation is much of a hack, but if you dial into this Community Walk map, zoom out and look for the mint-green, upside-down teardrops, you'll find links to the virtual version of two real-world locations: a Hawaiian island, and a coffee shop in Washington DC.

The R&B Coffee Shop in Washington was the site of an event in February called The Happening, which was for the most part a gathering of local artists and musicians. But there was also a "mixed reality" component to it, arranged by the Electric Sheep, whereby video of the live event was streamed into Second Life, and video of the virtual location in SL was projected on a screen at the real-life Happening. All it took was for someone (SL resident Hiro Pendragon) to build a scale model of the coffee shop in Second Life. That's what I'm linking to in the Community Walk map, via a secondlife:// URL that launches the SL application when clicked. (The SLurlPane was slightly more complex, but still pretty simple.)
Tags: Games
Comments are now closed.